Tiger 3 Release Live Updates: Salman Khan, Shah Rukh Khan Revive Iconic Moments From Karan Arjun
New Delhi: 'Tiger 3' has released on the occasion of Diwali 2023. The Salman Khan, Katrina Kaif starrer has been making headlines thanks to Yash Raj Films' vigorous marketing campaign and the excitement fans in general have for the film's release. 'Tiger 3' marks the third installment of the 'Tiger' films which began with 'Ek Tha Tiger' directed by Kabir Khan in 2012. Post the first film's success, a sequel was fetched out in 2017 titled 'Tiger Zinda Hai'. The sequel of 'Ek Tha Tiger' was directed by Ali Abbas Zafar. Both films created new box office records. The two rank among the highest Hindi grossing films of all time.  For a recap of the 'Ek Tha Tiger' and 'Tiger Zinda Hai', click here. The excitement around Salman Khan and Katrina Kaif's Diwali release is such that advance booking records have shown a massive surge in collection. As per several estimates by trade analysis sites, 'Tiger 3' has collected Rs. 15 cr in advance bookings collection. Many sites have also predicted an opening day business of Rs. 40 cr for the Salman Khan film. If the film's opening is bumper. it would be a breather for Salman Khan, the megstar who has not tastes success with his last releases like 'Kisi Ka Bhai Kisi Ki Jaan'. 'Tiger 3' will also see a crossover with 'Pathaan' and 'WAR' as Shah Rukh Khan and Hrithik Roshan make their cameos in the film. Their special appearances are much-anticipated and fan theories about YRF spyverse have been making wild speculations about the same. Perhaps, for this reason, Salman Khan also appealed to his fans to not share spoilers post the release of the film on Sunday. Taking to his official Instagram handle, Salman wrote on Saturday, "We have made Tiger 3 with a lot of passion and we are counting on you to protect our spoilers when you see the film. Spoilers can ruin the movie-watching experience. We trust you to do what is right. We hope Tiger 3 is the perfect Diwali gift from us to you!! Releasing in cinemas tomorrow in Hindi, Tamil & Telugu."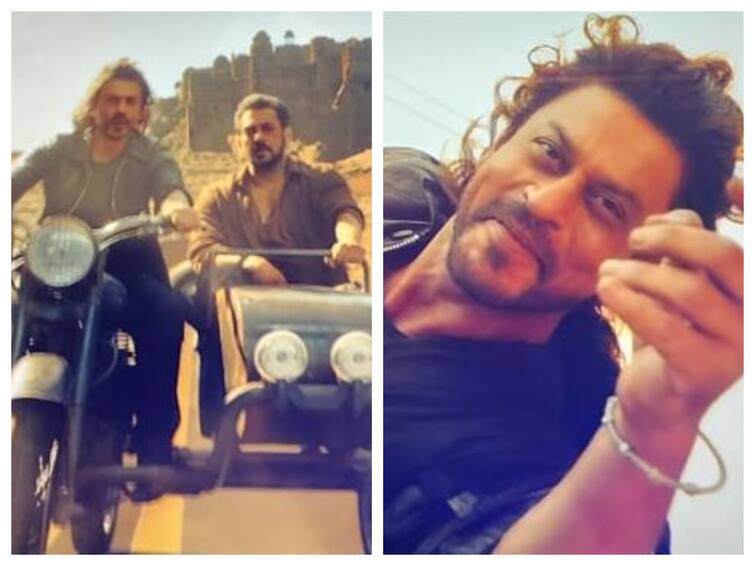 New Delhi: 'Tiger 3' has released on the occasion of Diwali 2023. The Salman Khan, Katrina Kaif starrer has been making headlines thanks to Yash Raj Films' vigorous marketing campaign and the excitement fans in general have for the film's release.
'Tiger 3' marks the third installment of the 'Tiger' films which began with 'Ek Tha Tiger' directed by Kabir Khan in 2012. Post the first film's success, a sequel was fetched out in 2017 titled 'Tiger Zinda Hai'. The sequel of 'Ek Tha Tiger' was directed by Ali Abbas Zafar.
Both films created new box office records. The two rank among the highest Hindi grossing films of all time.
For a recap of the 'Ek Tha Tiger' and 'Tiger Zinda Hai', click here.
The excitement around Salman Khan and Katrina Kaif's Diwali release is such that advance booking records have shown a massive surge in collection. As per several estimates by trade analysis sites, 'Tiger 3' has collected Rs. 15 cr in advance bookings collection.
Many sites have also predicted an opening day business of Rs. 40 cr for the Salman Khan film. If the film's opening is bumper. it would be a breather for Salman Khan, the megstar who has not tastes success with his last releases like 'Kisi Ka Bhai Kisi Ki Jaan'.
'Tiger 3' will also see a crossover with 'Pathaan' and 'WAR' as Shah Rukh Khan and Hrithik Roshan make their cameos in the film. Their special appearances are much-anticipated and fan theories about YRF spyverse have been making wild speculations about the same.
Perhaps, for this reason, Salman Khan also appealed to his fans to not share spoilers post the release of the film on Sunday.
Taking to his official Instagram handle, Salman wrote on Saturday, "We have made Tiger 3 with a lot of passion and we are counting on you to protect our spoilers when you see the film. Spoilers can ruin the movie-watching experience. We trust you to do what is right. We hope Tiger 3 is the perfect Diwali gift from us to you!! Releasing in cinemas tomorrow in Hindi, Tamil & Telugu."
What's Your Reaction?