Cirkus Box Office Collection Day 1: Ranveer Singh's Movie Gets Off To A Slow Start, Earns Only Rs 3.16 Cr
New Delhi: When it comes to ticket sales, Ranveer Singh's latest film doesn't seem to be making much of an impression. The first day's box office results are out, and it's safe to conclude that Ranveer Singh starrer 'Cirkus', like so many other Bollywood films before it, is going to fail to become a financial success.  Even though Rohit Shetty's newest film had been highly anticipated, it failed to do well at the box office, earning just Rs 3.16 Cr.  Since Ranveer's previous film, 'Jayeshbhai Jordaar', did not do well at the box office, fans had high expectations of 'Cirkus'. Although the reviews have been negative, suggesting the picture may bomb.  Check out the Day 1 collection of 'Cirkus': #Cirkus at *national chains*… Day 1 biz…⭐️ #PVR: 1.47 cr⭐️ #INOX: 1.10 cr⭐️ #Cinepolis: 59 lacs⭐️ Total: ₹ 3.16 cr pic.twitter.com/bd2Zu0JGMN — taran adarsh (@taran_adarsh) December 24, 2022 The movie is also struggling at the box office because it's competing with James Cameron's 'Avatar: The Way of Water'. The film marks Ranveer Singh's third collaboration with Rohit Shetty after 'Simmba' and the Akshay Kumar-starrer Sooryavanshi', where he had an extended cameo appearance. Shakespeare's Comedy of Errors, which has been turned into Bollywood comedy flicks like 'Angoor' and 'Do Dooni Chaar', served as the inspiration for 'Cirkus'.   The comedy film is produced by Reliance Entertainment, T-Series, and Rohit Shetty Picturez and helmed by Rohit Shetty. Along with Ranveer Singh, the movie also stars Jacqueline Fernandez, Pooja Hegde, Johnny Lever, Varun Sharma, and several other prominent actors. 'Cirkus' was released on the big screens on December 23.   Also, on Ranveer's plate is the Karan Johar directorial 'Rocky Aur Rani Ki Prem Kahani' in which he will share the screen with Dharmendra, his 'Gully Boy' co-star Alia Bhatt, Jaya Bachchan and Shabana Azmi.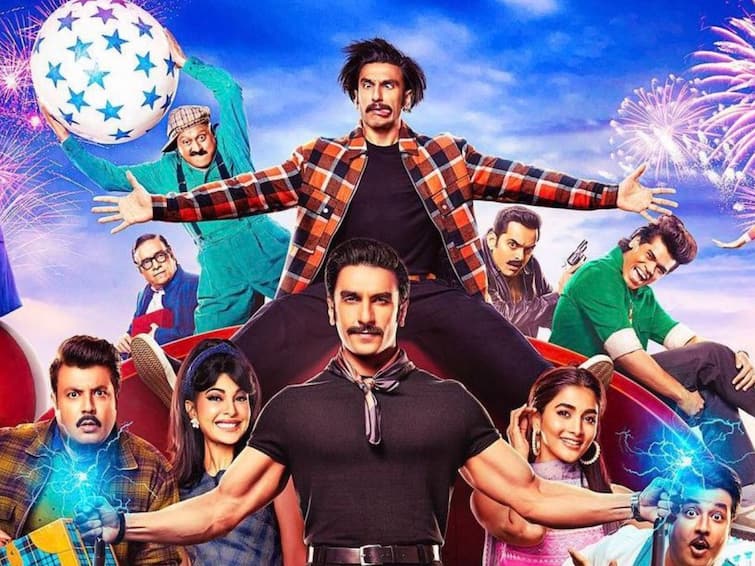 New Delhi: When it comes to ticket sales, Ranveer Singh's latest film doesn't seem to be making much of an impression. The first day's box office results are out, and it's safe to conclude that Ranveer Singh starrer 'Cirkus', like so many other Bollywood films before it, is going to fail to become a financial success.
Even though Rohit Shetty's newest film had been highly anticipated, it failed to do well at the box office, earning just Rs 3.16 Cr.
Since Ranveer's previous film, 'Jayeshbhai Jordaar', did not do well at the box office, fans had high expectations of 'Cirkus'. Although the reviews have been negative, suggesting the picture may bomb.
Check out the Day 1 collection of 'Cirkus':
#Cirkus at *national chains*… Day 1 biz…
⭐️ #PVR: 1.47 cr
⭐️ #INOX: 1.10 cr
⭐️ #Cinepolis: 59 lacs
⭐️ Total: ₹ 3.16 cr pic.twitter.com/bd2Zu0JGMN

— taran adarsh (@taran_adarsh) December 24, 2022
The movie is also struggling at the box office because it's competing with James Cameron's 'Avatar: The Way of Water'.
The film marks Ranveer Singh's third collaboration with Rohit Shetty after 'Simmba' and the Akshay Kumar-starrer Sooryavanshi', where he had an extended cameo appearance.
Shakespeare's Comedy of Errors, which has been turned into Bollywood comedy flicks like 'Angoor' and 'Do Dooni Chaar', served as the inspiration for 'Cirkus'.
The comedy film is produced by Reliance Entertainment, T-Series, and Rohit Shetty Picturez and helmed by Rohit Shetty. Along with Ranveer Singh, the movie also stars Jacqueline Fernandez, Pooja Hegde, Johnny Lever, Varun Sharma, and several other prominent actors. 'Cirkus' was released on the big screens on December 23.
Also, on Ranveer's plate is the Karan Johar directorial 'Rocky Aur Rani Ki Prem Kahani' in which he will share the screen with Dharmendra, his 'Gully Boy' co-star Alia Bhatt, Jaya Bachchan and Shabana Azmi.